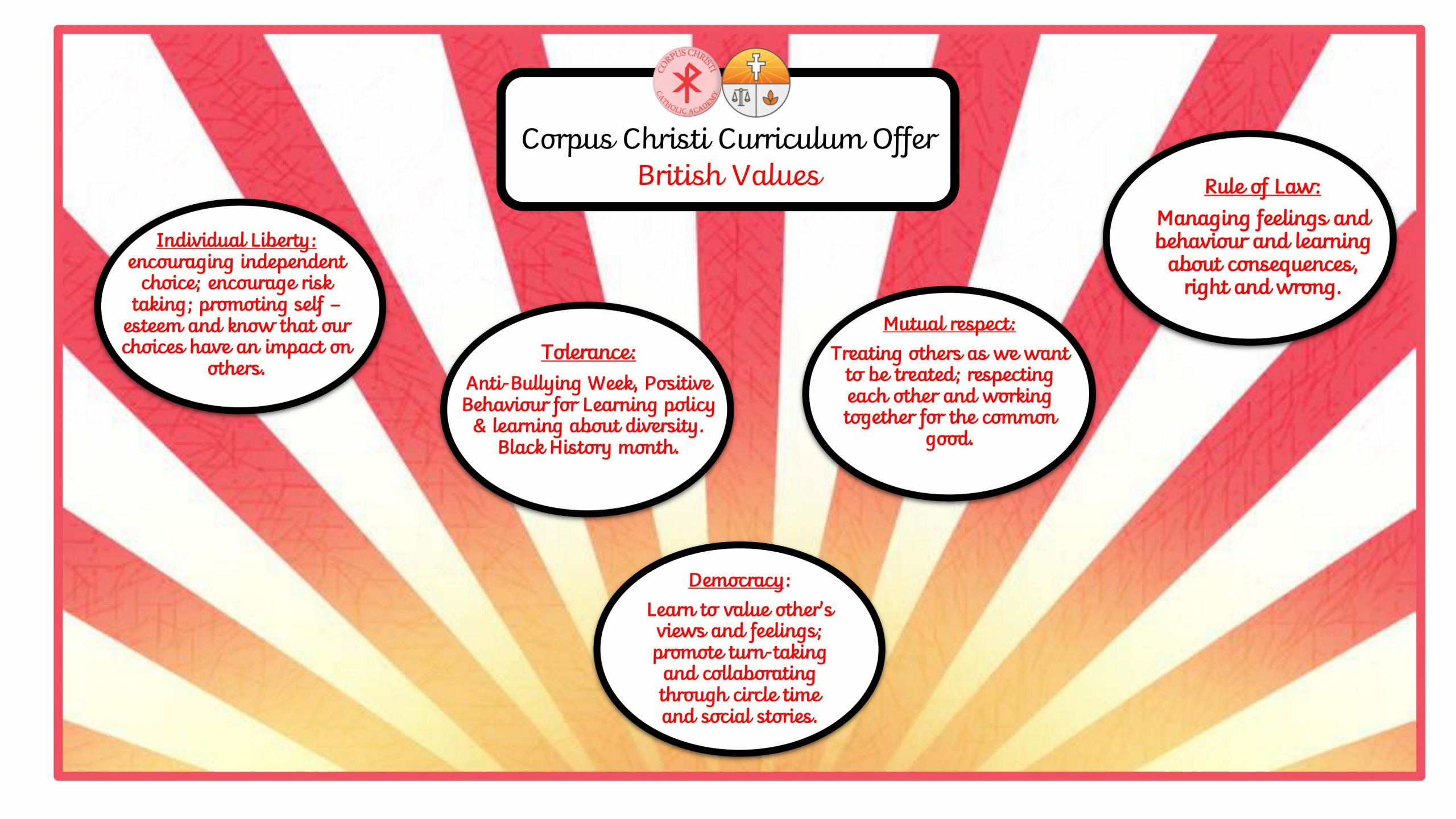 Intent
At Corpus Christi we take very seriously our responsibility to prepare children for life in modern Britain. Our school reflects British values across our learning. We aim to nurture our children on their journey through life so that they can grow into secure, caring, democratic, responsible and tolerant adults who make a positive difference to British society and to the world. We encourage our children to be creative, unique, open-minded and independent individuals, respectful of themselves and of others in our school, our local community and the wider world.
We ensure that the fundamental British Values are introduced, discussed and lived out through the ethos and work of the school. All curriculum areas provide a vehicle for furthering understanding of these concepts and, in particular, our RE, PSHE, Relationships Education lessons and assemblies provide opportunities to deepen and develop understanding. Children embrace these concepts with enthusiasm and demonstrate a developing understanding of their application to their own lives. We understand that the development of our children's cultural capital is vital in deepening their experiences, opportunities and aspirations for the future.
Implementation
The Government set out its definition of British Values in the 2011 Prevent Strategy and there are clear criteria for schools to 'create and enforce a clear and rigorous expectation on all schools to promote the fundamental British values.'
These are:
Democracy

The rule of law

Individual liberty

Mutual respect

Tolerance of those of different faiths and beliefs
 At Corpus Christi, we are committed to serving our community and local area. In so doing, we reinforce British values regularly. As of September 2021, we have a half termly focus for one of the five British Values- emphasised through assemblies and class activities. Classroom displays continually emphasise the most recent learning and links are made through and across subjects.
Please see our policy for more information. 
Impact 
The impact our curriculum has on our children:
Children will leave Corpus Christi with an open minded approach and attitude to the outside world.

Children of all abilities and backgrounds are included and engaged in British Values to better understand the world we live in and the skills they will need in later life.

Clear progression and transference of life skills.

Children will be accepting of all people and promote the inclusive attitudes that are embedded into the School's ethos.

Fundamental British Values are evident in all areas of the school curriculum and will be encountered and accessed as part of daily classroom routines. The ultimate aim for British Values is that children will be using and applying them without even realising this as these values will become part of their day to day life.
Please click on the links below to find out more about our British Values planning.