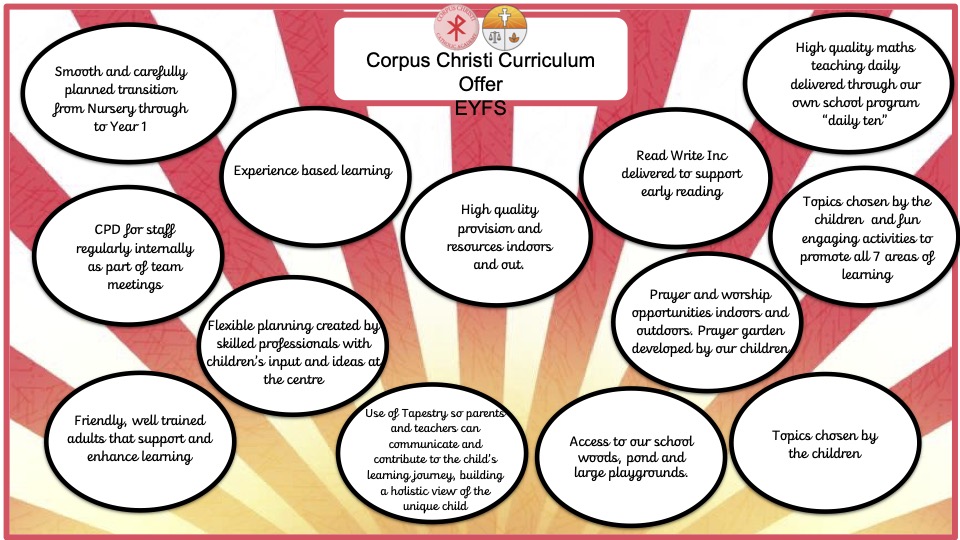 Intent:At Corpus Christi, we aim to provide a friendly, well resourced, engaging environment where children can be inquisitive and initiate their own learning. We strive to provide challenging play and open-ended learning which engages and supports each individual child to become independent learners.This is supported through our curriculum drivers:
Communication: Develop a wide range of vocabulary across each topic to support their transition to KS1 and to increase their understanding of our complex language. Develop the language and vocabulary across all areas of learning to communicate their interests, feelings, needs, knowledge and understanding
Opportunity: Realise aspirations for all – providing opportunities for children to explore their interests and build their aspirations for possible job opportunities in the future
Responsibility: Challenge and push myself to fulfil my potential by independently exploring the opportunities and resources provided
Perseverance: Have pride in and be proud of the work they are capable of completing across all areas of learning
Understanding: Develop their understanding of the themselves and the world around them through the seven areas of learning
Service: children have the opportunities to explore the 'grown-up' world, role-playing and learning from people within our community, including parents
Implementation:
Our curriculum follows the The Early Years Foundation Stage. This curriculum applies to children from Nursery to the end of the Reception year. The Early Years Foundation Stage is important both in its own right, and in preparing children for later schooling. The Early Learning Goals set out what is expected of most children by the end of the Early Years Foundation Stage (EYFS). The EYFS education we offer our children is based on the following principles:     ● the unique child ● positive relationships ● enabling environment ● learning and development. Our topics are flexible. Our curriculum is flexible in the Foundation Stage and is adapted to the interests and needs of the children.  Children are fully involved in curriculum planning therefore topics change regularly. The EYFS curriculum at our school provides a balance of adult-led and child-initiated activities, we believe that children learn best through first-hand experiences. We provide fun, practical activities that motivate and challenge children. Through play our children explore and develop learning experiences, which help them make sense of the world, both indoors and outdoors. We provide an appropriate, stimulating and accessible indoor and outdoor space for the children. We encourage children to think creatively, problem solve and take risks in collaboration with other children and independently.  Our provision ensures every area of learning is accessible at all times. Children are encouraged to use our carefully planned environment to initiate their own learning. Children are encouraged by skilled adults to persevere and engage with activities for a sustained period.
At Corpus Christi we follow the 'Read Write Inc' scheme for phonics lessons created by Ruth Miskin. Children will start 10 min daily lessons in the summer term of Nursery if they are ready. In Reception lessons will start from the autumn term and will increase in time over the year.
Autumn Term: 20 minutes
Spring Term: 30 minutes
Summer Term: 40 minutes (If the children are ready for longer sessions this may be increased to an hour to prepare children for year 1).
As we are a Catholic School children participate in RE lessons across the week. This may be collective worship, assembly, liturgy, church visits or RE lessons in class. Every RE lesson will follow the 4 key principles we follow and will ensure children are leading their own learning where possible.
Assessment is an integral part of the planning cycle and a firm basis for reflection. We assess children informally whilst playing and interacting with them. Our staff are trained to listen carefully and respond to children's play to enhance learning when appropriate. This may be in the moment or through a planned activity later in the week/term. Regular meetings are held with members of the EYFS team and SLT to share information, discuss progress and to determine which children are on track and those who are not. Staff then provide learning opportunities to support those children who are not on track and adapt the learning and extend opportunities for those who are.
Impact
The impact of the EYFS curriculum is reflected in having well rounded, happy and confident children transitioning into Year 1. The broad, balanced and engaging curriculum we have designed ensures that the needs of individual children including EAL, SEND and disadvantaged children can be met. The impact of our curriculum is measured by assessment procedures which allow us to measure outcomes against all schools nationally. We measure the percentage of pupils achieving age related expectations by the end of Nursery. The impact of our curriculum will also, in fact, be measured by how effectively it helps our pupils develop into well rounded individuals who embody our values and carry with them the knowledge, skills and attitudes which will make them lifelong learners and valuable future citizens. Our quality first teaching supported by our engaging environment is seen to be impacting in a very positive way on pupil outcomes. We endeavour to ensure our pupils are ready and prepared for each transitional period they encounter. We receive positive feedback from parents about how their children are excited and motivated to come to school and that they make good progress within the Early Years.
Please view the additional documents in school:
EYFS Knowledge and Skills Progression
EYFS
We are very excited that our new signs have been installed. I am sure that you will agree they look great!